At work for a healthier world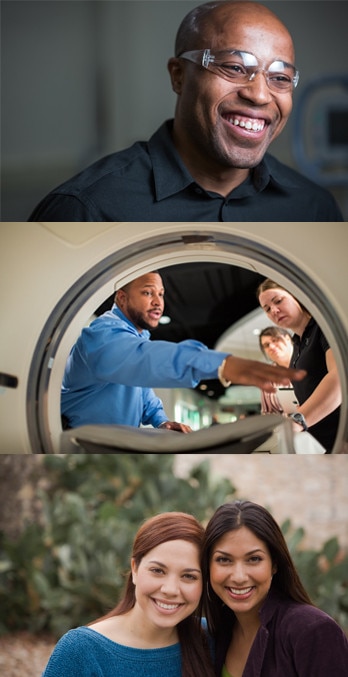 Careers at GE Healthcare
What do you envision for your future? At GE Healthcare, we strive to see life more clearly. Our "healthymagination" vision for the future invites the world to join us on our journey as we continuously develop innovations focused on reducing healthcare costs, increasing access and improving quality and efficiency around the world.
We are an $18 billion unit of General Electric Company (NYSE: GE), employing more than 52,000 people worldwide and serving healthcare professionals in more than 100 countries. We believe in our strategy - and we'd like you to be a part of it. As a global leader, GE can bring together the best in science, technology, business and people to help solve one of the world's toughest challenges and shape a new age of healthcare.
Something remarkable happens when you bring together people who are committed to making a difference - they do!
At work for a healthier world.
We are an equal opportunity employer, offering a great work environment, challenging career opportunities, professional training and competitive compensation.
Jobs for US Veterans

Jobs for U.S. Veterans within GE Healthcare

At GE, we value the leadership, loyalty, integrity, and commitment to excellence you have demonstrated through your military service. Your technical, tactical, and leadership skills and experience can be deployed around the globe to serve our customers: "front-line" healthcare professionals delivering better care to more people around the world.

GE Healthcare has opportunities that particularly align well with a veteran's training, discipline, and work ethic from Sales and Service to Global Supply Chain and Logistics.

We also offer a Junior Officers Leadership Program, which is a two-year cross-functional rotational training program including both on-the-job and formal classroom training. Learn more about the Junior Officers Leadership Program.

If you have been in any of the Military Occupational Specialties (MOS) listed below, or similar roles, you could be a good fit for GE Healthcare. As a U.S. military veteran, come explore the possibilities for your future with GE Healthcare.

GE is a proud member of the Get Skills to Work (GSTW) coalition, which joins major manufacturers and educators to create new futures for those who worked to make ours better. Learn more about GSTW.

The Importance of Diversity

GE's greatest asset is its people.

We're diverse, supporting our communities in more than 140 countries. At GE, diversity is about the power of the mix - the strength that results from a team with varied experiences, backgrounds and perspectives. Our diversity fosters a limitless source of ideas and opportunities.

Diversity is part of our core foundation. From the commitment of our leadership team to our internal processes, inclusiveness energizes teams and fosters teamwork and innovation.

GE is committed to employing a diverse workforce throughout the world, and to providing all employees with opportunities to reach their growth potential and contribute to the progress of the communities we serve. Our achievements reflect a culture of meritocracy where every employee can be a leader. We believe that when one person grows and improves, we can all grow and improve - and together, we all rise.


Awards & Recognition

Most Powerful Women - Fortune Magazine
100 Best Companies for Working Mothers - Working Mother Magazine
Best Places for Diverse Managers to Work - Diversity MBA Magazine
Best In Class Employer - Asia Society
Top Military Employer - Military Times, G.I. Jobs Magazine
Corporate Equality - Human Rights Campaign

Corporate Inclusion - Hispanic Association on Corporate Responsibility (HACR)
Healthymagination

healthymagination is a shared commitment to creating better health for more people, through the sharing of imaginative ideas and proven solutions. It takes the form of multiple projects that you can participate in, whether you're looking to change your lifestyle or fine-tune your approach to health. Making healthy decisions should be easy...and fun. Join us at www.healthymagination.com for projects, stories, blogs, applications and more.
Gallery
Male and female biomedical technicians at GE Healthcare.

Male engineer working in lab at GE Healthcare wearing a hat.

male software engineer wearing safety glasses working on machinery at GE Healthcare

Male field service engineer kneeling by medical equipment

man working in Life Sciences lab at GE Healthcare

medical sales team at GE Healthcare looking at iPad

man working on quality regulatory and medical team at GE Healthcare