Access precise tumor treatment in the 3D space.
• Liver ASSIST V.I., with Virtual Injection allows real-time injection simulation that helps to define optimal navigation through hypervascularized anatomy of the liver to reach the lesion.
• Provides high sensitivity in detecting arteries leading to the vicinity of hypervascular lesions in the liver to reach up to 97%2abc

Save time and radiation dose.
• Placing catheter tip at the right location usually requires constant change of catheters & guidewires to find the most adapted for selective embolization.
• Detecting tumor feeding vessels in the 3D space usually requires multiple DSA in various angulations (meaning increased dose and procedure time to obtain comprehensive understanding of the 3D vascular anatomy).
• Using Liver ASSIST V.I. allows users to save procedural time by 11%2d and helps to reduce mean number of DSA by up to 30%2d in a single TACE session vs. not using it.


Achieve a higher rate of complete tumor response.
Liver ASSIST V.I. is the only software solution able to demonstrate ~68% complete tumor response rate (36% with DSA alone)3

Optimizes procedure selection & preparation.
Thanks to automatic liver anatomy segmentation & evaluation, Liver ASSIST V.I. helps to automatically extract bone, liver and portal system4 to be able to puncture it during your TIPS or PVE procedures.
Trans Arterial ChemoEmbolization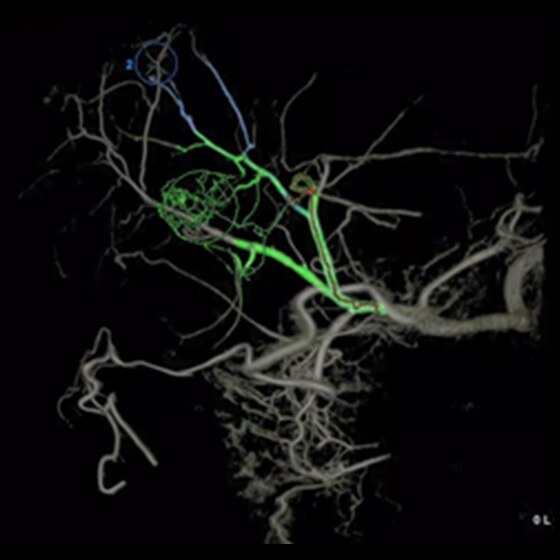 PLAN
Simulates virtual injection points in real-time. Improved sensitivity of tumor feeding vessels identification vs the use of either DSA or CBCT alone to reach up to 97%.
2abc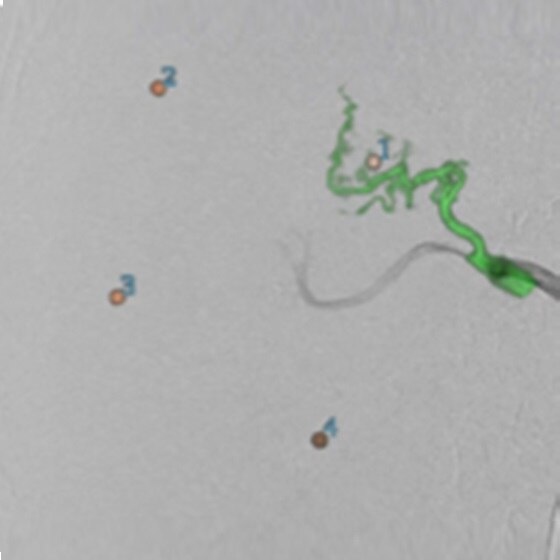 GUIDE
Single-click fusion imaging between the live fluoroscopic image and the vessels highlighted for 3D fusion guidance.
5
Facilitates catheter selection in complex vascular anatomies for a higher selectivity in liver embolization procedures.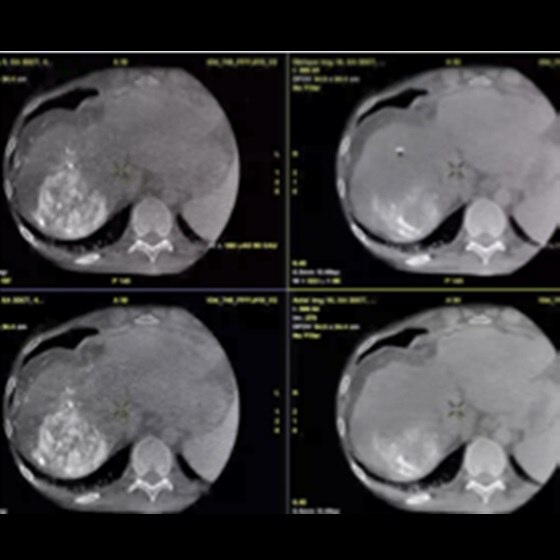 ASSESS
The outcome of the treatment is then controlled with CBCT.
Transjugular Intra-hepatic Portosystemic Shunt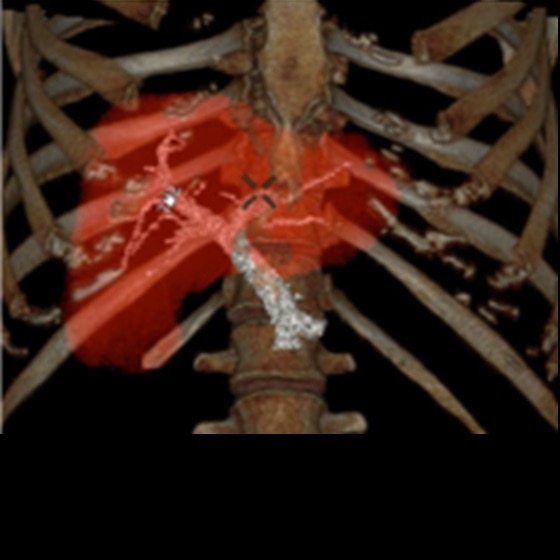 PLAN
Automatically extract bone, liver and portal systems.
4
Export to use as a 3D overlay.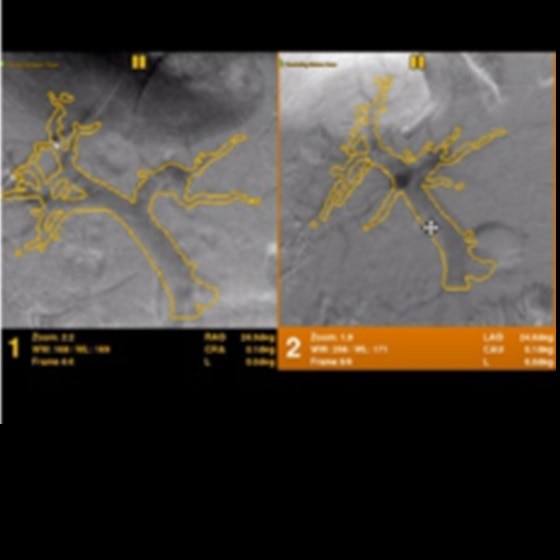 GUIDE
Overlay pre-operative data on live fluoroscopic images5 using the intuitive Bi-View registration guided workflow, all at table side.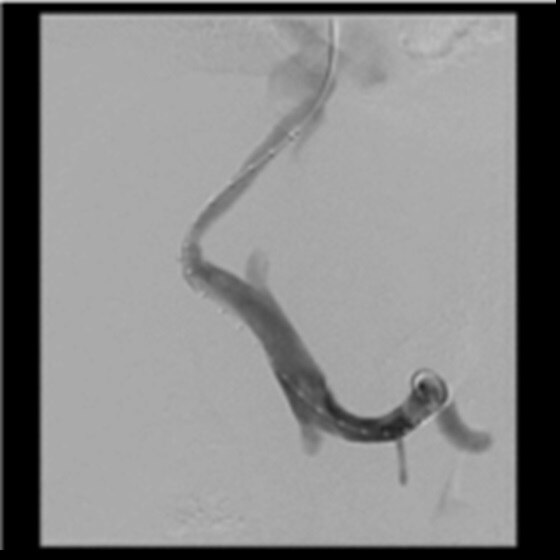 ASSESS
Use DSA images on larger Field Of View to image the entire anatomy of interest.
Fast facts
Virtual Injection allows the real-time simulation of an injection. This could increase confidence in in determining where to position the catheter tip before an injection.1

Improves the sensitivity of Tumor-feeding vessels identification versus the use of either DSA or Cone Beam CT alone, to reach up to97%.2abc

Up to 82%2a inter-operator agreement for identification of feeding vessels compared to DSA(54%) or Cone Beam CT(62%) alone.

11% reduction in procedure time2d
The procedural time for a single TACE session is significantly less with Liver ASSIST V.I. than without it.
* Liver ASSIST V.I. solution includes Hepatic VCAR and FlightPlan for Liver that can be used independently. It also requires an AW workstation with Volume Viewer and Volume Viewer Innova. These applications are sold separately. May not be available for sales in all markets.
1. Based on qualitative assessment by 6 Interventional Radiologists recognized in the field of Interventional Oncology
2. The above Liver ASSIST V.I. performances aspects reflect the results of four published journal articles conducted by using previous version of FlightPlan for Liver software (b,c,d) or its prototypes (a) for the validation and they do not necessarily represent individual performance of FlightPlan for Liver:
a. Computed Analysis of Three-Dimensional Cone-Beam Computed Tomography Angiography for Determination of Tumor-Feeding Vessels During Chemoembolization of
Liver Tumor: A Pilot Study – Deschamps et al. Cardiovasc Intervent Radiol. 2010.
b. Tracking Navigation Imaging of Transcatheter Arterial Chemoembolization for Hepatocellular Carcinoma Using Three-Dimensional Cone-Beam CT Angiography –Minami
et al. Liver Cancer. 2014
c. Clinical utility and limitations of tumor-feeder detection software for liver cancer embolization. Iwazawa et al. European Journal of Radiology. 2013.
d. Comparison of the Number of Image Acquisitions and Procedural Time Required for Transarterial Chemoembolization of Hepatocellular Carcinoma with and without
Tumor-Feeder Detection Software –Iwazawa et al. Radiology Research and Practice. 2013
3. Hepatic Arterial Embolization Using Cone Beam CT with Tumor Feeding Vessel Detection Software: Impact on Hepatocellular Carcinoma Response. Cornelis et al. Cardiovasc. Intervent. Radiol. 2017. Using a previous version of FlightPlan for Liver.
4. Bone extraction thanks to Autobone Xpress (included in Vessel ASSIST) / Liver and portal system extraction thanks to Hepatic VCAR (included in Liver ASSIST V.I.).
5. Requires Vessel ASSIST solution which includes Vision 2, VesselIQ Xpress, Autobone Xpress. Liver ASSIST V.I. and Vessel ASSIST are sold separately.