Contrast-enhanced mammograms offer fast and affordable imaging, with high specificity and high sensitivity. New Zealand-based radiologist and breast-imaging expert Dr Monica Saini explains how SenoBright HD with Senographe Pristina is transforming her practice.
The Breast Institute of New Zealand is the culmination of Dr Monica Saini's vision for a revolutionary private breast clinic. "I wanted to create a centre where we do the highest quality imaging, and can be an education and research platform," says Dr Saini, a breast radiologist who trained in her native United States. "We are a place for women to come and learn about themselves."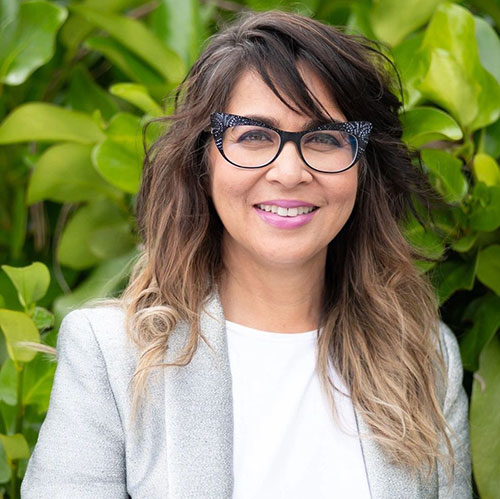 Above: Dr Monica Saini
Dr Saini's practice is the first in New Zealand to offer GE's SenoBright HD Contrast-Enhanced Spectral Mammography (CESM) with the clinic's GE Senographe Pristina Mammography System.
It's used for patients who have a new diagnosis of breast cancer and to exclude any additional disease ahead of surgery, or who are at high risk and cannot have an MRI, or patients on chemotherapy to check cancer response, or who have a palpable lump and their mammogram and ultrasound is inconclusive. For a radiologist finding cancer in a dense-breasted woman is very challenging.
Whereas in a contrast-enhanced mammogram, "cancers light up like a light bulb," says Dr Saini. "And we are able to do that in seven minutes. We give IV contrast [dye] and do the mammogram, and we're done. You can review the images quickly and perform and additional testing for new lesions found on the contrast mammogram then and there. It's a much more efficient process and allows us to work as a one-stop shop."
Contrast-enhanced mammograms are "a game-changer, as they have similar sensitivity to MRI. But CESM is quicker, cheaper, and has lower false positive rates", says Dr Saini. "Having this tool means we are able to map out a patient's disease within a single visit and our surgical colleagues don't have to wait. Decreasing patient wait times makes a huge difference."
In April, Dr Saini had a patient aged in her 40s whose case is a perfect illustration of the difference SenoBright and CESM makes in the precision of a diagnosis. The woman was concerned about possible nipple change. Her standard 2D mammogram did not reveal any obvious abnormality, her 3D tomosynthesis mammogram showed a 1cm mass. Dr Saini then took her patient on to an ultrasound exam, which revealed there were in fact two adjacent masses, now showing about 3cm.
"Her breast tissue was very heterogeneously dense that obscured her cancers," says Dr Saini. As well as a biopsy and a consultation with the surgeon, Dr Saini recommended the patient then have a contrast-enhanced mammogram.
The CESM exam became very important for the woman's lumpectomy. "It showed that the mass actually measured 4cm – so we'd gone from 1cm to 3cm and now 4cm. I showed the patient her images so she could gain a better sense of her cancer and why it was so important to receive treatment. Pictures are more powerful than any words I could use. It was invasive ductal carcinoma, and after the lumpectomy, she had chemotherapy and radiation. She is well and was incredibly grateful to have her cancer detected and treated so quickly."
The CESM exam gave the surgeon more precise information. "He went in knowing there was 4cm of disease instead of 3cm, thus reducing the probability of needing a second surgery due to positive margins," explains Dr Saini. 'Positive margins' is the term used when pathology reveals that the surgery failed to remove all the tumour. "We want to help our surgeons by outlining exactly how much disease is present and by sorting that quickly. Using the contrast-enhanced mammogram makes this possible."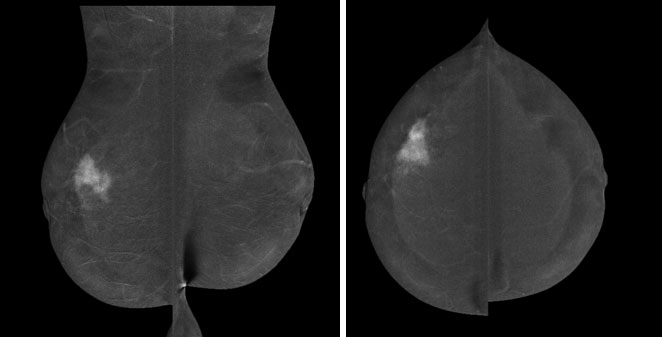 Above: This contrast-enhanced mammogram was able to give the surgeon more precise information, reducing the probability of needing a second surgery due to positive margins.
Dense breasts are a known risk factor for cancer, partly because their disease can be missed on traditional mammography. "Contrast-enhanced mammography is a perfect test for higher risk women with dense breasts because it subtracts out the density and allows us to focus on areas that have increased blood flow and thus potentially cancer," says Dr Saini.
"It's been a more sensitive surveillance test for women who have a personal history of breast cancer and dense breasts.  We are seeing an uptick in research published about contrast-enhanced mammography's effectiveness and how it compares to the MRI. We know that the sensitivity is pretty comparable to MRI and the false positive rate is lower, coupled with the speed and lower cost, it makes contrast enhanced mammography an excellent option."
Breast Institute of New Zealand opened at the beginning of 2021 and serves the communities of Lower Hutt and Wellington. "It does not feel clinical.  Lots of small touches like the plant wall in the mammography room, the kimono robe, and TVs showing nature scenes are part of the breast wellness experience," says Dr Saini, who wants to remove any barriers that can lead women to put off this essential screening.
The clinic also removes the waiting and wondering. Each woman receives her preliminary results before they leave. "We're really trying to create a one-stop shop model, including working with a local breast surgeon. We're reframing cancer screening as breast wellness, because here in New Zealand eight out of nine women will not develop breast cancer. For most of us, it's a wellness check."
For Dr Saini, making contrast tests accessible is another goal. "The GE Pristina system we have is fantastic and helps us do these exams more comfortably and efficiently," she says.  Dr Saini helped her local District Health Board public clinic, where she also works, add the SenoBright software to an existing, older mammography system. "That's an inexpensive way to add contrast study to your toolkit, without buying a whole new machine, which is amazing and a great win for our public breast centre," she says.
"Contrast- enhanced mammography is an excellent tool for us to improve breast care for all women," says Dr Saini. "That's why I believe it's the future."