No one could have predicted the stress that healthcare workers are experiencing because of COVID-19,  not even Jennifer Murphy, a nearly 30-year veteran in the healthcare field.
She and her team know the challenges of caring for high volumes of critically ill patients and the role technology can play in making the job easier.
"Technologists have a physically demanding role. They are required to move large equipment throughout their day as well as transport and properly position their patients for imaging procedures," said Jennifer Murphy, Radiology Manager at St. Luke's University Health Network. "These requirements can cause stress and strain in the back, neck, and shoulders. Portable imaging is particularly difficult, as most often the patients are quite ill and unable to assist in their own positioning."
X-ray is the oldest form of imaging and a valuable tool on the frontlines of patient care, accounting for over 60 percent of all imaging exams.[1] And while X-ray has always been in high demand, the pandemic has made portable X-ray a key front-line asset because of its ability to help clinicians quickly and effectively prioritise cases in the ER and evaluate patients in the ICU.
Since introducing X-ray to the market more than 125 years ago, GE Healthcare has continued modernising this technology to make it mobile and more intelligent to meet the ever-changing needs of clinicians like Jennifer and her team.
Fast forward to today – the impact of the COVID-19 pandemic has made addressing the needs of those on the frontlines even more real – requiring a new way of thinking and serving as a catalyst for new innovation and technology that can withstand today and tomorrow's most challenging hospital conditions.
Trial by Fire: A test of extremes
So, when GE Healthcare set out to design their next-gen portable X-ray system, the AMX Navigate, the development team consulted with technologists to improve key features they rely upon every day.
The system had to be easy to use and help reduce the sources of stress and strain that impact 70 percent [2] of technologists during their career. It had to be durable enough to withstand rigorous exam volumes, yet nimble enough for technologists to move the system from floor-to-floor, in-and-out of elevators, and position confidently in challenging clinical settings. It also needed to provide exceptional high resolution, low dose  image quality and a new level of workflow efficiency.
These insights led to a new design focused on improving the user experience–from the unique power-assisted Free Motion telescoping column that helps reduce the physical effort required to complete an exam and the system's small footprint that facilitates enhanced maneuverability, to the system console that reduces the number of user interactions required to set-up and process an exam.
To ensure the new design was up to handling the challenges of today's healthcare environment, the team embraced the opportunity to think differently and go the extra mile, literally.
Starting in GE Healthcare's engineering test bays, the first series of tests included rigorous repetitive robotic testing of key assemblies; simulating extreme environmental conditions; and running the system through various clinical scenarios. Beyond virtual testing, the team also drove the system across the factory floor for hours on end - achieving over 16 miles on a single battery charge.[3]
The team was so inspired by its performance, they sought to test the system outside of a lab environment in a completely different set of extremes. So, they hit the road for a destination 1900 miles (3058 KM) from the lab deep in the Mojave Desert of California called Furnace Creek, which is also known as the hottest place on earth.[4]
"Our AMX mobile X-ray systems can be found all over the world at various temperatures and remote locations. When we develop a new system, we work hard to think about all the elements our customers might face and know that reliability and longevity are essential for digital portable X-rays on the frontlines of imaging today," said Katelyn Nye, General Manager, Mobile X-ray and Artificial Intelligence, GE Healthcare.
By the end of its journey through the desert, and with two-thirds of a charge remaining, the AMX Navigate logged 6.4 miles (10.3 KM), while managing 7-degree inclines and speeds of 5 KM/HR, in air temperatures of 121F (49.4C) and road temperatures of 168F (75.5C).[5]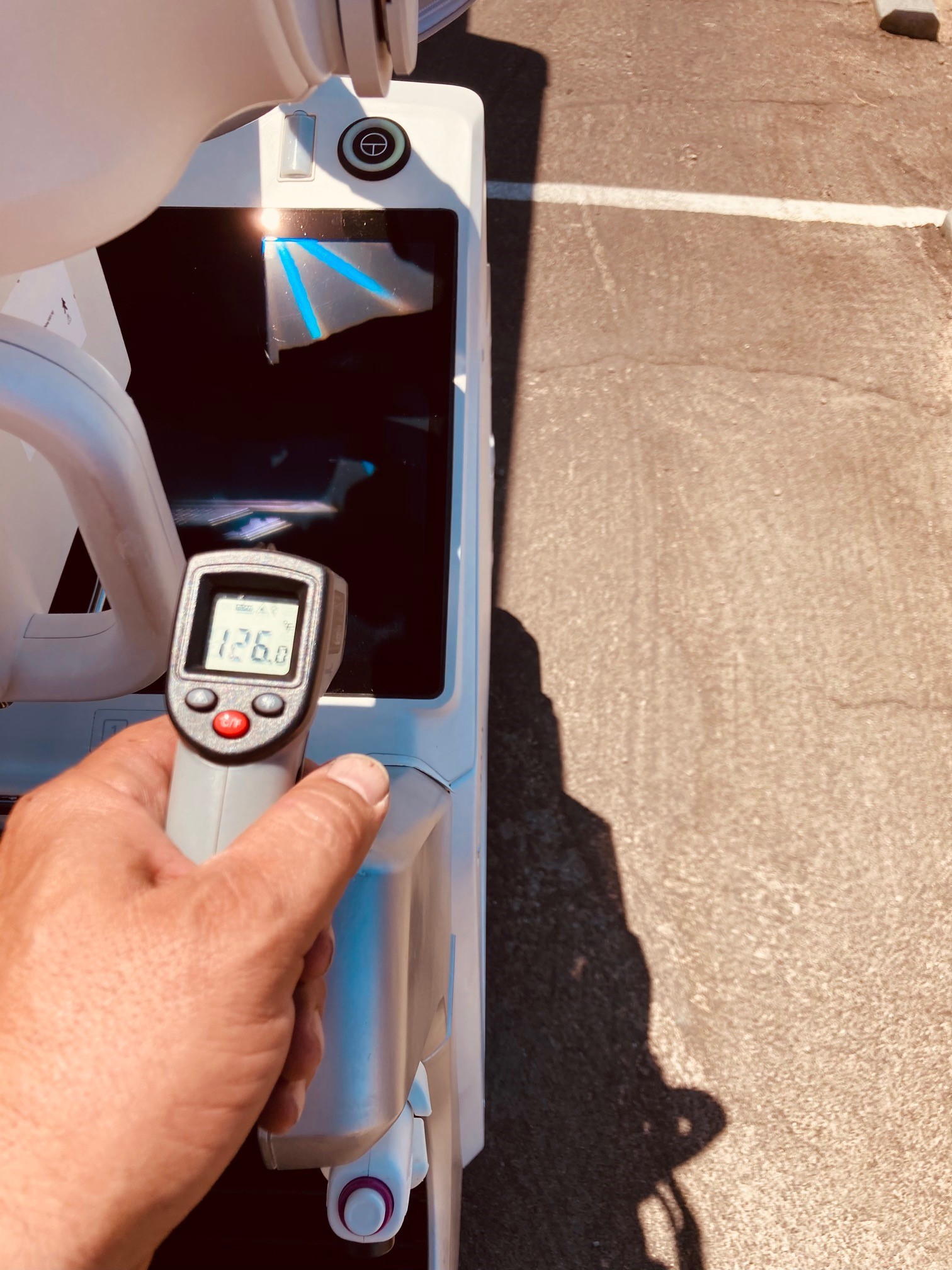 The system did so well handling these extremes, that while they wanted to continue, the team chose to stop for the safety of the driver.
"Over the last year, it's been inspiring to see healthcare providers step up in the face of such unprecedented circumstances. We know how important it is to design solutions that are up to the test and help make their jobs just a little bit easier," said Ryan Klemann, Product Manager X-ray who volunteered to drive the AMX Navigate through this test of extremes in Furnace Creek. "We have rigorous processes in place to ensure that we can deliver for them, but sometimes you have to think a little differently. This test of extremes helps demonstrate that we've built something we believe can withstand the test–from the hottest place on earth to the bedside to the ER or the ICU...and we got to have a little fun too!"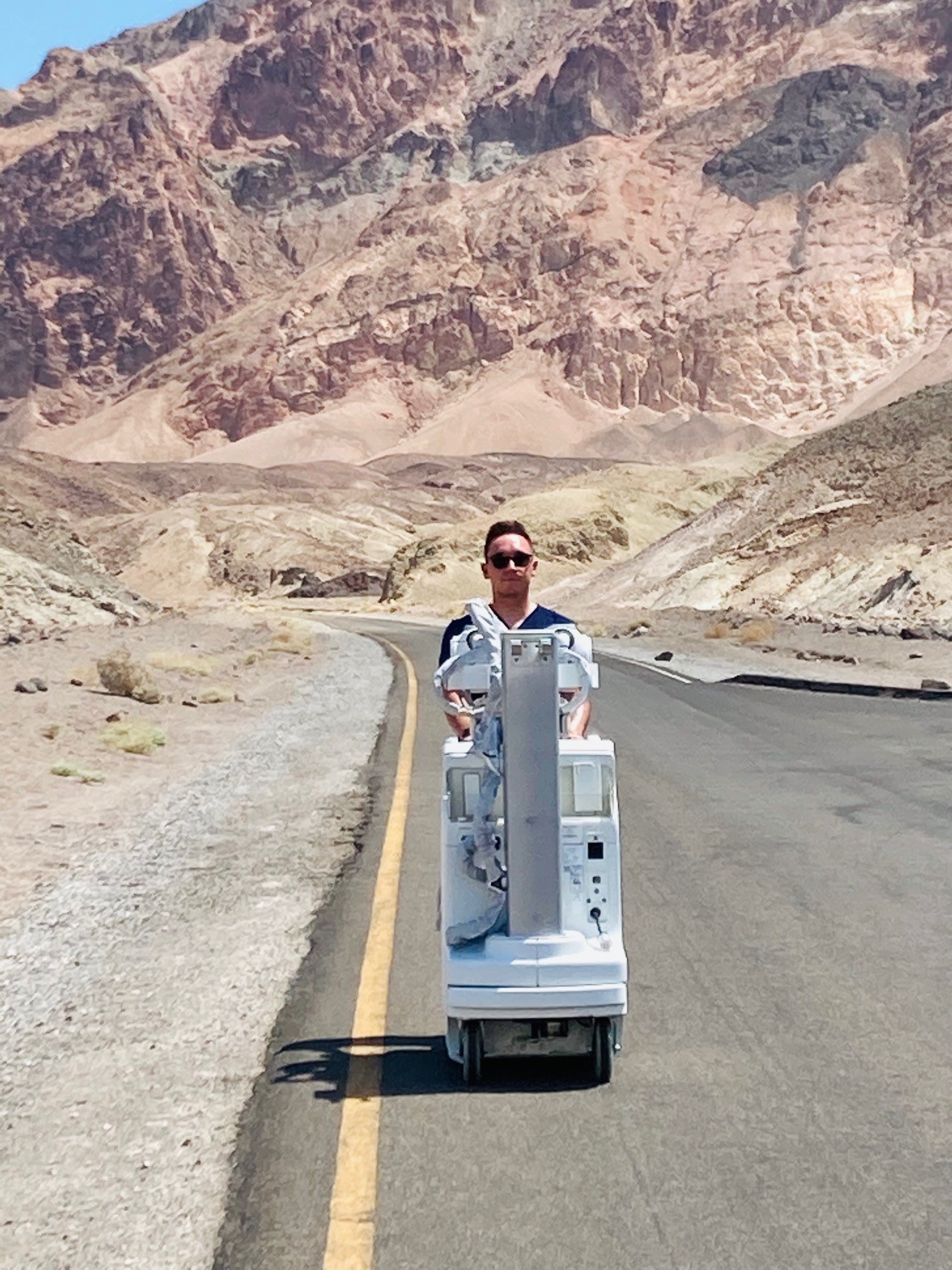 Ready for the frontlines today and tomorrow
Even before the pandemic, the demand for imaging was growing. In 2019, an estimated 4.2 billion imaging procedures were performed with X-Ray and ultrasound tests accounting for approximately 80 percent of those exams.[6]
"Diagnostic imaging is an integral piece of a patient's care, from the routine case to an emergent trauma situation," said Jennifer Murphy. "Clinicians depend on the quality imaging provided by technologists, but ergonomic challenges are very impactful, and the daily physical demands can cause exhaustion and the potential for injury. Having equipment like the AMX Navigate that's designed to help alleviate these consistent stressors allows for improved imaging with faster turnaround times helps to improve patient outcomes."
And as hospital systems and clinicians battle variants and new surges in the ongoing COVID-19 pandemic, the demand for fast, reliable, and efficient technology is increasing.
Over the past year, these increased pressures have led to other innovative solutions like Critical Care Suite 2.0,[7] an industry-first collection of artificial intelligence (AI) algorithms embedded on a portable X-ray device, that help clinicians prioritize critical chest X-ray review in the case of suspected pneumothorax or Endotracheal Tube (ETT) placements for critically ill COVID-19 patients.
Now the AMX Navigate, which also incorporates Critical Care Suite 2.0, provides just another example of how GE Healthcare is designing to better address the needs and demands of technologists, while also ensuring this critical imaging tool can withstand the demands of today's hospital environment.
The AMX Navigate is 510(k) cleared by the U.S. FDA. Not yet CE marked. Not available for sale in all regions.
---