For many patients, the stethoscope hanging around the neck of their family doctor is a familiar, soothing sight. Howard Markel, the famous American physician and medical historian, believed the acoustic medical device to be a symbol of medical practice itself, embodying science, technology and the human skill of listening [1]. 
It may not be long before the local doctor is sporting another tool alongside that trusty stethoscope. GE Healthcare has just launched the Vscan AirTM, the next generation of its handheld ultrasound devices. The device is tailor-made for the clinicians who are constantly diagnosing symptoms and providing health and wellness advice: primary care physicians.
That's because the device combines  functionality and versatility in a neat, portable package. The Vscan Air wireless probe measures just 13.1 x 6.4-centimeters (5.1 x 2.5 inches), which is smaller than the average smartphone. Busy physicians, who might see up to 100 patients per week [2], can easily slip the compact, ergonomic device in or out of their coat or trouser pocket. The device has two transducers in a single probe, allowing it to deliver crystal-clear images to the clinician's mobile device of both shallow and deep anatomy. That makes it a perfect fit for general practitioners, who provide care for people across all ages, illnesses, and parts of the body.
"A stethoscope offers feedback through sounds," explains Steffen Mueller, a product manager at GE Healthcare. "But the Vscan Air allows physicians and other medical professionals to see into the body to get additional clues about the patient status, making a physical examination more complete."
Vscan Air was invented with primary care physicians in mind. Obstetricians and cardiologists have been using ultrasound, the technology that allows doctors to see inside the body by emitting and recording the echoes of high-frequency soundwaves, for decades. But Mueller and his GE Healthcare colleagues longed to extend ultrasound beyond the maternity and coronary care unit. They knew that if the world's physicians could see inside the patient's body during even routine checkups and regular physical examinations, it would improve outcomes.
The work of Mueller and the team led to the launch of the Vscan, the world's first handheld colour ultrasound device, in 2010. The engineers were pleased to see large crowds of physicians flocking to their stands at trade shows, where they unveiled the device. The first adopters initially used the miniature devices for triage in the emergency room and discovered that they helped to smooth patient flow on the hospital ward by identifying which cases needed urgent attention, and who could stay put for observation.
Over the last decade, GE Healthcare engineers continued to add products to the Vscan family to enhance primary care. They added dual sector-linear transducers – the components that emit and collect soundwaves – in a single probe in 2014. The Vscan ExtendTM is also enhanced with artificial intelligence (AI) technology, which allows for the automated measurement of ejection fraction, which is jargon for how much blood the heart's left ventricle pumps [3].
But the Vscan AirTM raises the bar again. Despite its compact size, the device boasts technology advancements in signal processing, which allows it to display high-resolution images. SignalMax technology brings advancements in signal processing, which allows such a small and portable device to display high-resolution images. For example, it uses 128 channel beamforming and harmonic imaging, sophisticated computational techniques that filter out the unwanted noise in the echoes of ultrasound pulses for smooth image acquisition. That extra processing power is a game-changer in terms of patient access. Up until now, high quality images have required large and expensive hardware. For handheld ultrasound this has meant small and ergonomic devices come at the expense of lower image quality. But the small, ergonomic Vscan AirTM dual-probe and mobile app pack core functionality of a console-sized machine into a palm-sized device. That means practitioners can leave the four walls of a hospital or clinic without compromising on image quality or diagnostic confidence.    Physicians can choose the higher-frequency setting to scan shallow anatomy, such as the breast or the thyroid gland, and the lower-frequency transducer for deep abdomen, obstetric and gynaecological imaging.
"I use it daily," says Dr. Kyle Leonard, a roving physician who serves a rural community in upstate New York. "It adds to the diagnostic information of knowing what someone's symptomatology is being caused by, and it also assists with procedures." The physician explains that if he needs to perform a musculoskeletal exam, it takes just a few seconds to slip the Vscan AirTM out of his pocket, pair the probe with his smartphone or tablet screen, and start scanning.
The crisp picture enables him to diagnose sports injuries with confidence such as rotator cuff strain, a common condition that affects the muscles and tendons in the shoulder joint, or quickly assess for knee arthritis. "Having a device in my hand that lets me look inside of a patient's body is a nice adjunct to the physical exam," he says. "I can see they have edema [fluid build-up] or swelling in a tendon and show the patient." Before the Vscan AirTM, Leonard would rely solely on detailed patient histories and examinations to make his diagnosis.
The device is also a useful ally for routine treatment. "I do some ultrasound guided joint injections, and you know where the needle is going," says Leonard. "It increases the accuracy of the procedure and decreases complications," he adds.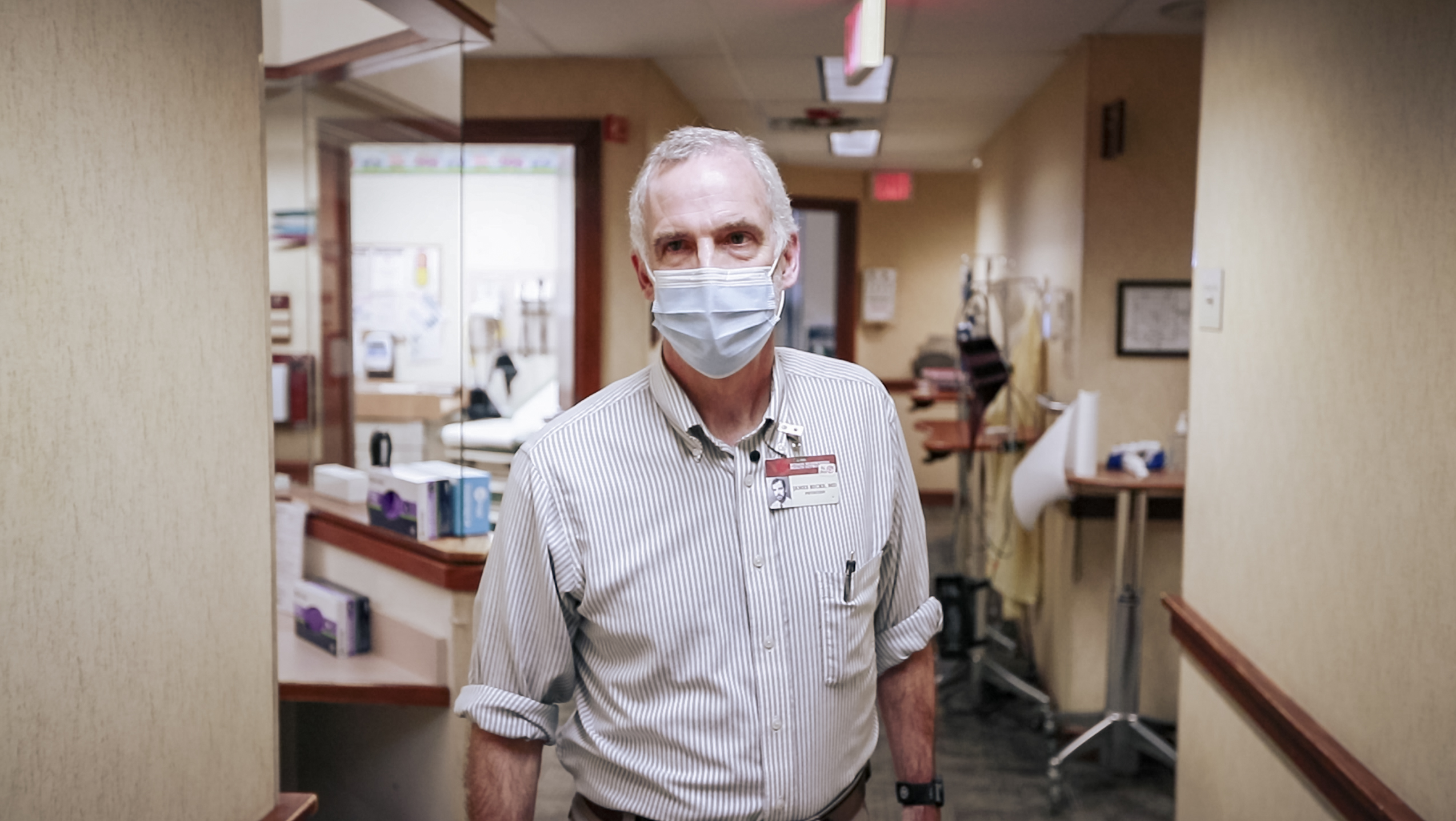 "The image resolution on whatever device I use is excellent," says Dr. James Hicks, a family medicine specialist in Glens Falls, New York, who was part of Vscan Air'sTM early clinical evaluation.  "Sometimes I'll use a larger [tablet] device which allows the patient to engage a little bit more, sometimes it's just my phone, but either way the patient can be involved with the examination, the diagnosis and treatment plan."
The portability of the device is also useful in traditional hospital and clinical settings. Previously, Leonard would wheel an ultrasound cart into a patient's room for a similar musculoskeletal exam. "I'd have to bring it in, turn it on, and boot it up," he says. That eats into his time and a patient's access to care. "The more time something takes, the fewer patients I can provide access to in a day," he says. "So the portability and ease of use [of the Vscan AirTM] is huge."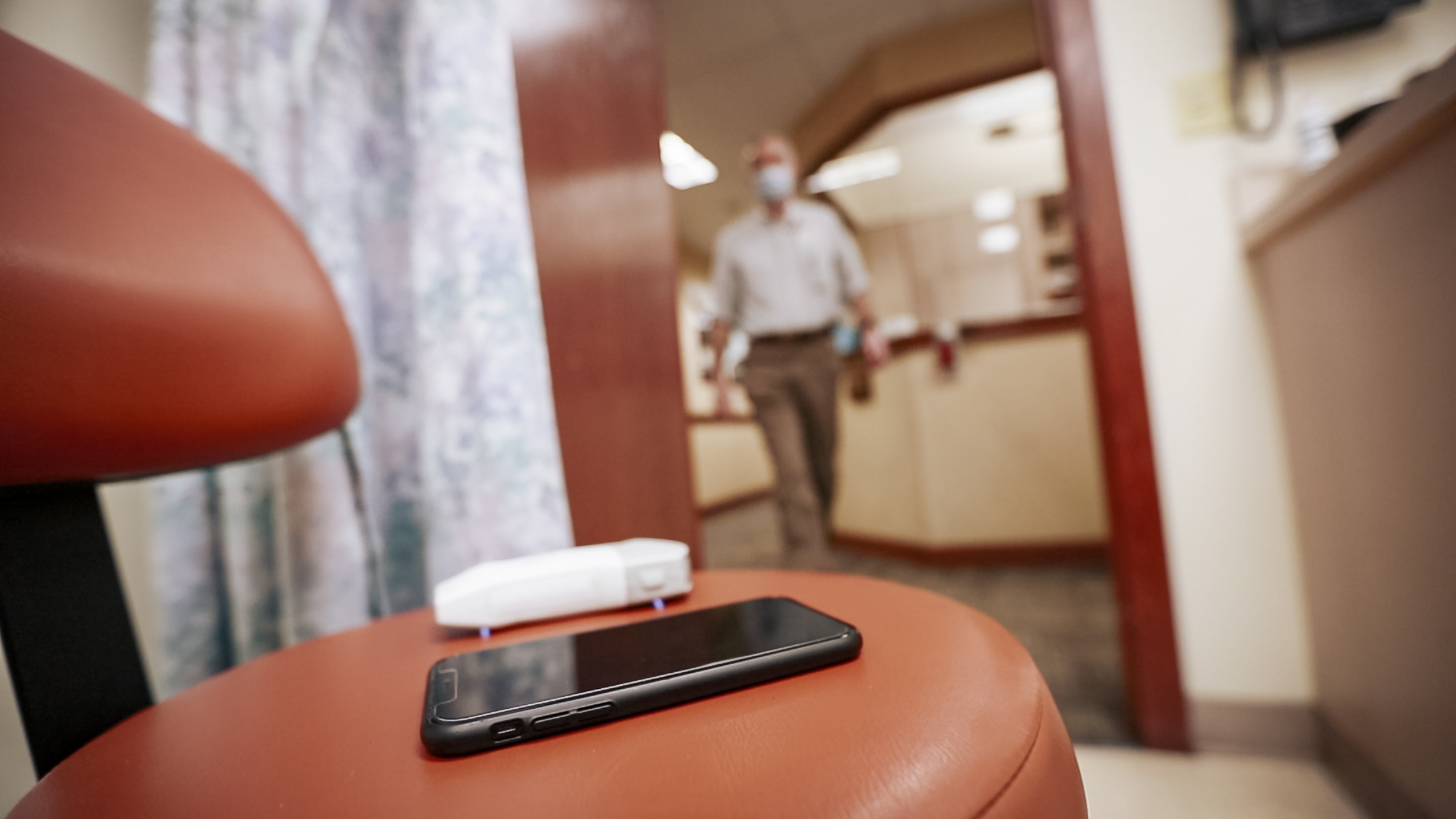 The Vscan AirTM probe, Vscan AirTM CL, size may be small, but it is tough and long-lasting. Built to military-grade durability standard (MIL 810-G) for drops, extreme temperatures, water exposure, and high-level disinfection techniques.
Its dual transducers are a valuable feature for internal medicine physicians, or internists, who see patients across a variety of medical disciplines with diverse needs. Dr. James Kornfield, an internal medicine specialist in Portland, Oregon, regularly rotates the probe to scan both shallow and deep tissues and organs. "When I show them what I'm seeing, [I find] they have a greater sense that we're doing a better evaluation [and] that we're being more thorough," he says. Vscan AirTM is also a hit with Kornfield's patients. "The majority of them get very excited when I take out the Vscan AirTM," he says.
Leonard relates a similar story. "One of the first scans I did [using Vscan AirTM], someone had a trigger nodule on their finger," he says, referring to the common condition of a finger tendon swelling up. "You could see the nodule and the tendon moving on the screen," he explains. "I had a smile on my face, and I looked up and I think the patient's smile was almost larger than mine," he adds. 
The Vscan AirTM will continue to enhance the relationship between family doctors and their patients. To date, there are over 30,000 Vscan brand handheld systems in the pockets of clinicians, impacting the care of more than 50 million patients worldwide.
Dr. Nils Petter Oveland, who heads up research and development at the Norwegian Air Ambulance Foundation [4], is not surprised that physicians are starting to see the Vscan family as a symbol of their medical practice, just like a stethoscope. The Scandinavian flying medic places his Vscan ExtendTM on his bedside table next to his smartphone when he sleeps and takes the device everywhere he goes. "It should just be a natural part of being a doctor," he says.
REFERENCES
[1] The Stethoscope and the Art of Listening
— https://www.nejm.org/doi/full/10.1056/nejmp048251
[2] Average Number of Family Physician Patient Encounters Per Week by Setting
https://www.aafp.org/about/dive-into-family-medicine/family-medicine-facts/table6.html
[3] The Mayo Clinic, Ejection fraction: What does it measure? ­— https://www.mayoclinic.org/ejection-fraction/expert-answers/faq-20058286#:~:text=Ejection%20fraction%20is%20a%20measurement,the%20ventricles%20refill%20with%20blood
[4]The Norwegian Air Ambulance Foundation — https://norskluftambulanse.no/en/