Healthcare has been anything but ordinary since the COVID-19 pandemic. The drastic shift in focus has left many areas at a standstill, including radiology. As the radiology new normal begins with states easing restriction, how can you be best prepared?


Radiology Sees Significant Decline
According to the data company Quinsite, as of May 11, radiology imaging is down 43.2 percent [1] since March 16, 2020. With this reduced workload, radiology departments are facing severe revenue losses. Still, the demand for routine imaging could increase as healthcare shifts back to a normal level, where imaging defined as elective is now allowed.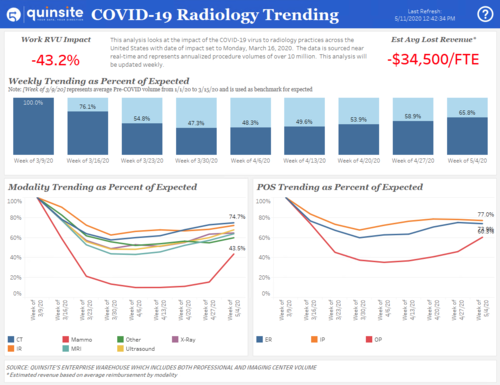 Source: Quinsite
The Radiology New Normal: What You Can Do Now
Healthcare and every other industry will have to embrace this new normal, and you can do so by looking at opportunities. Here are some ideas to ensure your team makes use of this time and is ready for the transition back to normal operations.
Catch Up on Continuing Education Credits
Radiologists are required to earn continuing education units (CEUs) that meet the educational requirements of ARRT (American Registry of Radiologic Technologists) [2]. Additionally, California, Texas, Florida, and New York have state requirements. If your staff is in need of CEUs for the year, this is an opportune time to participate in online courses. Clinical education should always be a priority for your team, and now they have the time to devote to it.
Complete an Operations Evaluation
How streamlined are your operations? Is there room for improvement? Look at the holistic workflow of how you run your program, examining all perspectives, including the patient. You should also assess the roles and responsibilities of staff to determine if there are better processes. You're looking for areas that can be streamlined for greater efficiency.
Improve Continuity of Care with Collaboration
Radiologists aren't always in the clinic setting. Many work remotely reading tests, and that has increased during COVID-19. Hospital administrators often still want radiologists physically available for consults, but the reality is that most of these discussions happen by phone, not in person.
Collaboration can occur in any communication channel, so if working remotely will continue to be a part of your process, it's a good idea to look at how you can collaborate better with other clinicians and improve continuity of care. To improve this in a remote scenario, you should have a compliant, secure video conferencing platform that allows for screen sharing.
Stay Up to Date on Radiology Trends
Radiology is a field that is continuing to evolve, so it's critical to remain engaged in what's next. Some of the top radiology trends that you may want to investigate include the use of artificial intelligence (AI) in radiology workflows. By integrating AI into your process, you'll be able to deploy deep learning algorithms, which can assist with productivity, lowering risk in read delays, and accelerate decision-making. To support your data and AI strategy, a vendor neutral archive (VNA) will be instrumental and is becoming the standard for PACS (picture archiving and communication system).
Another trend to consider is cross-discipline collaboration with other specialists. As radiologists are some of the most IT-knowledgeable roles, you can lead these new collaboration efforts, especially with pathologists.
Gearing Up for Steady Volume
As noted, just because routine imaging is decreasing doesn't mean that it will last forever. Your clinic may be extremely busy in a short period of time, as physicians begin ordering imaging tests again. How will you control the new volume? One possibility is shortening the scan times for MRIs, which have not shown to impact the quality of the tests, as noted in a Journal of the American College of Radiology (JACR) article [3].
Another proactive move you can take to quantify the coming rush is to survey your top referrers. Find out what changes they are making and what their expectations are for getting back to regular operations.
Radiology Is Resilient
The demand for radiology may have been ebbing, but it remains a necessity in healthcare diagnosis and treatment. The volume is expected to rebound significantly, so as you begin the radiology new normal, please consider the things you can do now: catching up on CECs, completing an operations evaluation, improving continuity of care with collaboration, catch up on trends, and quantify the expected rush. By doing so, you'll be ready to care for patients and improve your workflows.

Resources:
[1] Quinsite, https://www.quinsite.com/news.
[2] The American Registry of Radiologic Technologists, https://www.arrt.org/.
[3] "The Crisis After the Crisis: The Time Is Now to Prepare Your Radiology Department." The Journal of the American College of Radiology, April 13, 2020.https://www.jacr.org/article/S1546-1440(20)30407-5/fulltext.